We've been busy at HMS Software as we released TimeControl version 6.8 for both on-premises purchase and online subscription. It seems like just yesterday that we were shipping version 6.7 and all the new features there including the new Workflow module, the elimination of the last ActiveX controls and updated OnBoarding and Project Link functionality but here I am again with a major release of new functionality from our TimeControl team. In this version, we have included a new module we have talked about for some time. The Accruals Module will allow TimeControl administrators to automate functions such as banked time or calculated overtime and more. We also have added functionality to Expenses and Timesheets to allow you to insert your own documents (such as receipts) and a new Menu Editor that gives you even more flexibility over the TimeControl menus! Here are some of the more noticeable new and enhanced features you'll be seeing in this version:
Accruals module

TimeControl 6.8 includes a new Accruals module which allows Administrators to create a rules-based accrual of time into different elements of TimeControl tables. For example, Vacation could now be accrued automatically on a monthly basis and the amount per employee entered into the vacation bank on the employee table or overtime could be accrued from the timesheet using a banked-overtime rate into a bank of personal time in the employee table which could be used for time off later. There are 4 different types of Accrual rules now possible:
A scheduled rule that is based on static values in the employee tables
A scheduled rule that is based on values in the timesheets being posted
A rule executed during posting that is based on the timesheet values
A scheduled rule that looks at rate-code values
While doing Accruals within TimeControl has been possible in the past, it typically required expertise at the database level and now virtually all of these types of conditions can be managed by the users themselves in the Accruals module. Accruals are easy for an Administrator to create but, like Validation Rules and Workflow, are so potentially powerful, that we haven't begun to explore the limits of what is possible with them.
TimeControl menus are now editable
TimeControl has always allowed items in the menu to be secured using User Profiles. Now, TimeControl 6.8 goes so much farther. Administrators are now able to add their own menu items directly to the TimeControl menu using the Menu Editor or move existing items from one tab to another to match their own requirements.
Add receipts or other documents to an expense line item or the timesheet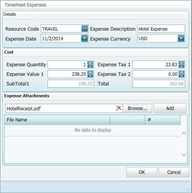 TimeControl 6.8 allows multiple files to be uploaded and saved within each expense line item or to the entire timesheet. This will allow scanned or photographed expenses to be saved with the Expense Line or at the timesheet level. There is no limit to the number of documents that can be attached to each expense line or to the Timesheet itself. For those who have their expense approvals managed at the same time as their timesheet, this makes the TimeControl expenses functionality that much more attractive.
Clickable dashboards

As of TimeControl 6.8, on dashboard elements where appropriate such as the Personal Status view, users are able to click on a link which will bring them directly to the appropriate area or element of TimeControl
Plus, we've made performance and minor improvements in a wide range of other modules.
Find out more about TimeControl 6.8 at www.timecontrol.com/timesheet/latest or talk to HMS about your timesheet needs at www.timecontrol.com/contact/contact.php.